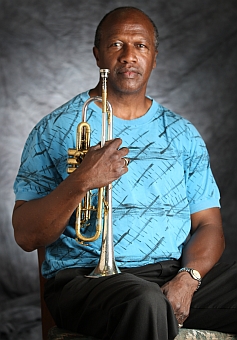 DATE OF BIRTH: May 24, 1947

PLACE OF BIRTH: Newark, NJ

INSTRUMENT: trumpet, fluegelhorn
Leslie Ford believes music saved him from a life of delinquency when he was a teenager growing up in Newark. An uncle introduced him to the music of trumpeter Freddie Hubbard as a young boy and he's never looked back. It was that experience that not only piqued his interest in music but also got him wanting to learn more about jazz. By studying and listening to others, Ford taught himself how to play the trumpet and, in the process, he says, he "discovered a new vocabulary and 'controlling agent'" that redirected his energy in a more positive direction. Over the years, he has played with Horace Silver, Frank Foster, James Spaulding, Steve Turre, Duke Anderson, Jack Onque, Harold Van Pelt, Yusef Ali and Carrie Jackson. Ford also leads his own band. In 1989, he founded The Jazz Institute of New Jersey, which uses jazz to improve the lives of youngsters. Ford is the youngest member of the Newark Jazz Elders.
NEWARK CLUBS: Key Club, Sparky J's, Front Room