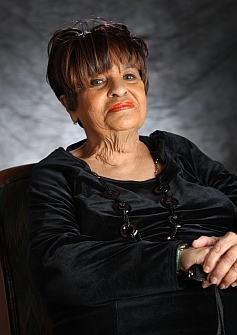 DATE OF BIRTH: July 24, 19??
DATE OF DEATH: Feb. 18, 2010
PLACE OF BIRTH: New York, N.Y.
INSTRUMENT: keyboards, vocals
As a young woman, Gloria Coleman studied several instruments before starting out her career as a bassist in 1952. She eventually devoted all of her attention to the piano and organ and was a featured attraction on the New York club scene for many years. She has had her own groups but also played in the bands of Sonny Stitt, Willis Jackson, Gene Ammons, Etta Jones, Joe Lee Wilson and Little Jimmy Scott. In 1975, Coleman relocated to Newark, where she had been popular in the clubs and where she remains to this day. She has performed all over the United States and Europe and released two albums for Impulse Records, one that featured the late guitarist Grant Green. Coleman also writes and arranges her own music and has written songs for Bobbi Humphrey and Ernestine Anderson. Her work has been recorded by a variety of artists, including Irene Reid and Hank Crawford. She also performs and has recorded with her husband, saxophonist George Coleman of Miles Davis Quintet fame, and their son, George Coleman Jr.
NEWARK CLUBS: Playbill Lounge, Key Club, Pitt's Place, Front Room